All enzymes ship next day air to ensure optimum enzyme activity. During checkout please insure you choose only next day air as your shipping method or this will delay your order.
Heparinase III (Hep III/Heparitinase) EC 4.2.2.8
Degrades heparan sulfate (HS)
Catalyses the eliminative scission of glycosidic linkages between N-sulfated or N-acetylated glucosamine (GlcNSO3 or GlcNAc) and glucuronic acid (GlcA)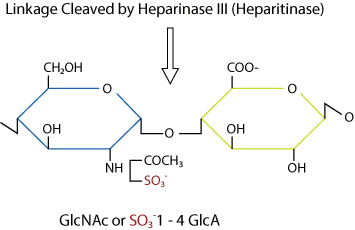 Technical notes
Heparinase III (Heparitinase) acts on Heparan Sulphate in regions of low sulfation and it has little activity against heparin. The preferred substrates for heparinase III are N-Acetylated or N-sulfated glucosamines linked to glucuronic acid. (i.e. GlcNAc/ GlcNSO3 1 – 4 GlcA). In consequence it acts primarily in the non-sulfated domains (NAc domains) and transition zones of HS whereas the highly sulfated S-domains are resistant to Heparinase III. The enzyme tolerates C-6 sulfation of amino sugars. Heparinase III has weak activity with disaccharides containing Iduronic Acid (IdoA) and its action is blocked if the iduronate residue is sulfated at C-2 (IdoA, 2SO3).
The Heparinase III resistant S-domains in HS have a heparin-like structure being mainly composed of GlcNSO3 1 – 4 IdoA,2SO3 repeat units with variable O-sulfation at C-6 of the GlcNSO3 residue. They vary in length form 3 to 9 disaccharide units. The patterns and densities of 6-O-sulfate groups along S-domains are an important determinant of their protein binding specificities.
The selectivity of Heparinase III can be exploited for the preparation of S-domains from HS. High resolution gel filtration will separate the different size classes of S-domain and these can be further subfractionated by SAX-HPLC according to sulfate content and patterning.