All enzymes ship next day air to ensure optimum enzyme activity. During checkout please insure you choose only next day air as your shipping method or this will delay your order.
Heparinase II (Hep II) EC number not assigned
Degrades heparin and heparan sulfate
Catalyses the eliminative scission of the glycosidic linkages between N-sulfated or N-acetylated glucosamine and glucuronic or iduronic acid. This is a broad activity enzyme that tolerates O-sulfation of the uronic acid and glucosamine residues.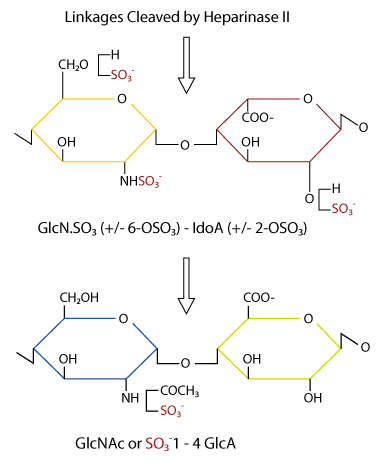 Technical notes
This low specificity enzyme attacks most linkages in heparin and HS but it does not effect complete depolymerisation of either GAG. It is very useful for analysis of disaccharide composition but its effectiveness is enhanced when used in combination with Heparinase I and Heparinase III. Heparinase II will cleave heparin and HS at N-unsubstituted glucosamine (GlcNH3 ) residues; in contrast the GlcNH3 -GlcA (or IdoA) linkage is resistant to Heparinase I and Heparinase III.