All enzymes ship next day air to ensure optimum enzyme activity. During checkout please insure you choose only next day air as your shipping method or this will delay your order.
Heparinase I (Hep I) EC 4.2.2.7
Degrades heparin and the S-domains of heparan sulfate.
Catalyses the eliminative scission of the glycosidic linkage between N-sulfated glucosamine (GlcNSO3) and 2-O-sulfated iduronic acid (IdoA,2SO3). The IdoA,2SO3 residue is essential for the activity of Heparinase I while 6-O-sulfation of GlcNSO3 enhances enzyme activity.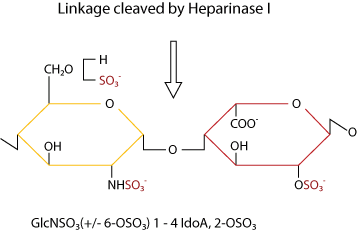 Technical Notes
The disaccharide cleaved by Heparinase I is common in heparin but it is quite rare in HS where it is confined to the sulfated domains. Thus Heparinase I will attack HS only in the S-domains bringing about limited scission of the polymer chain. This is a very valuable and under exploited property of Heparinase I. For example Heparinase I can be used to determine the spacing between S-domains in HS. This spacing is reflected in the size of the HS fragments that resist the action of the enzyme. Heparinase I can also be used to identify biological properties of HS that depend upon the integrity of the S-domains. For example HS-activation of fibroblast growth factor 2 (FGF2) is inhibited by treatment with Heparinase I (but not by Heparinase III).